Luksor - vzhodni in zahodni breg Nila
Luxor - east and west bank of Nile River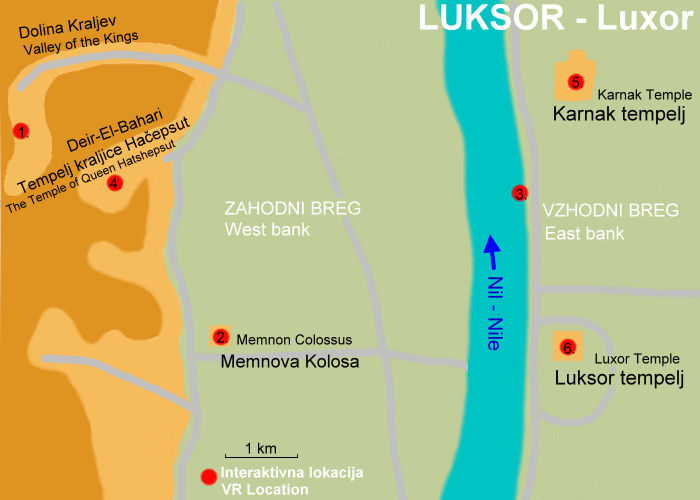 [ENGLISH]
Območje Luksorja v Gornjem Egiptu so bile Tebe (Waset) starih Egipčanov. Mesto se je imenovalo mesto stoterih vhodov. Tu je bilo glavno mesto Egipta v času med Srednjim in Novim kraljestvom - od 12 dinastije (1991 pr.n.št), ki je doseglo svoj vrhunec v času Novega kraljestva. Skozi čas so iz opek zgrajene palače Teb izginile toda iz kamna izklesani templji so se ohranili.

Območje antičnih Teb je bilo vpisano v UNESCO-v seznam človeške dediščine leta 1979.
#1. Dolina kraljev
Valley of the Kings
#2. Memnonova kolosa
The Memnon colosses
#3. Reka Nil - Luksor
Nile River - Luxor
#4. Deir El Bahari
Tempelj kraljice Hačepsut
The Temple of Queen Hatshepsut
#5. Tempelj v Karnaku
The Karnak temple
#6. Luksor tempelj
The Luxor Temple
Egipt Egyptian Landmarks Virtual Reality Panoramas geographical presentation : copyright: Boštjan Burger
April 2004