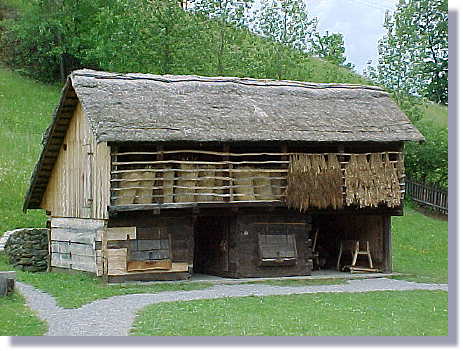 THE PIGSTY - "ŠTALUNCI"

The pigsty stands between the farm hose and a drying-rack and its direction is east-west if we consider its longer façade. The wooden structure was moved to the museum in 1987 from a farm in Tlake ( the address of the farm is Tlake 55 ). The pigsty was built in the 50s of this century but its plan is fairly traditional, so that in details, roofing construction, and the overall plan of the structure, it remarcably resembles much older buildings of this type. The building has four little stys. All the enterances lead to a low and narrow passage. An extention to the stys was there for storing litter and nowadays a sled is kept there too. The sled came in handy during the winter for transporting wood from forests or early in the spring for transporting manure to fields.
A peculiarity of the building is an asymmetric ridged thatched roof. The space underneth the roof was where they stored thatch, which was used in spring when roofs wanted repairing. On a drying frame - "rante" turnip and carrot leaves were dryed, which were used as fodder for the pigs in the long winter months.