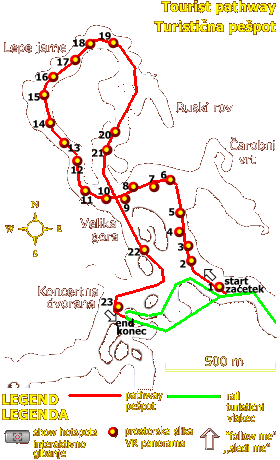 23. KONCERTNA DVORANA
Tu se konča turistično urejena pešpot po Postojnski jami.
V velikanski KONCERTNI DVORANI (3000 m3) je prostora za 10.000 ljudi, v njej so kocertirali že taki muzikanti, kot je bil Enrico Caruso. Zdaj jo večkrat preskušajo simfonični orkestri ali svetovno znani Slovenski oktet in različni solisti. Akustika je izjemna: vidni in nevidni prostori vračajo toliko odmevov in na tako različne načine, da napravijo glasbo resda karseda voluminozno, po svoje mistično, patetično bučečo, toda za tenko uho tudi vse navkriž zaostajajočo in prekrito.
The gigantic CONCERT HALL (3000 m3) has sufficient space for 10.000 people. Musicians as famous as Enrico Caruso have performed here. Symphony orchestras, the world renowes Octet and a variety of soloists appear here. Acoustic here are exceptional. Visible and invisible spaces return so echoes in so many ways as to render the music mystical and truly tumultuous, thought lingering secretively to the sensive ear.